Update time yet again!
I'm excited to nail the coffin on this squad: but I have to be patient and wait for glue, cement and as well as some enamels to cure proplerly before I topcoat them.
Here're the final pieces of the 1st Squad puzzle: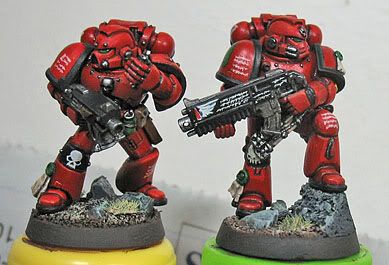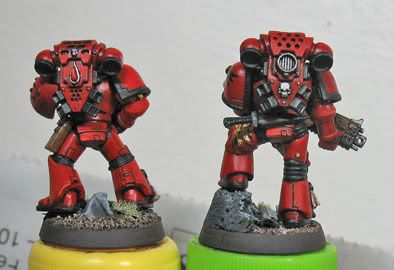 The grenade-lobber and the 2nd-in-Command. As I mentioned somewhere before, my 2iC, should I choose to combat squad it, will lead the other demi-squad. Therefore, I had his 'side-loincloth' with yellow (originally planned black, but decided otherwise coz of the limited number per decal sheet) BA icon over red (not seen much at their rear-view). I also experimented with a rattle-can red, but found it too deep for BA (as you may notice on the 2iC left greave).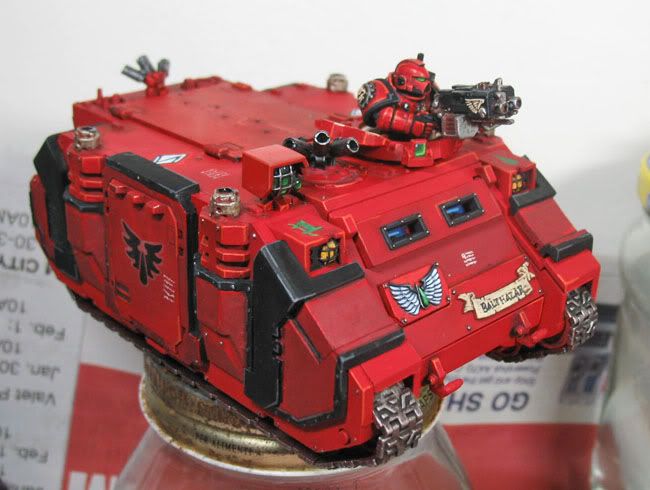 The 1st squad's dedicated transport, driven by tech-adept Balthazar. Main colors painted by a friend, I just painted the searchlight, smoke launchers, details (such as scriptures, squad/company marks, army badge and rivets) and the BA icon plate at the front. The extra armor doesnt appeal to me much rulewise, so it's just there for cosmetic purposes.
Next off would be the attack bike sidecar+passenger and Corbulo! (coz 'counts as' is sooo in nowadays hehehe
)
Cheers!
Quick addition; gonna put in a short one: BARE HEADS!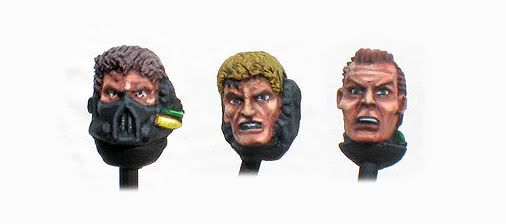 While tedious and frustrating to paint, everything goes away once it/they are finished. Learning curve? It's like a plateau, with a mountain just before the crest... why a mountain for the climax? The EYES! Gawd it's hard to paint those without the proper brush, or one fine enough to hold paint and keep it wet till you're comfortable and dot the iris... I also noticed that the newer bareheads have smaller eye/sockets, or rather less prominent... just my bitter observation though :P ahh well, in the end it's worth it