This entry is my first official update for the LPC (should've been last Jan31, but real-life takes priority :blink: ) Anyways...
Of the tactical squad I've committed, most of the marines done can be found in my blog entry below...
As for the rest, here they are hung upside down while waiting for their turn to be painted :P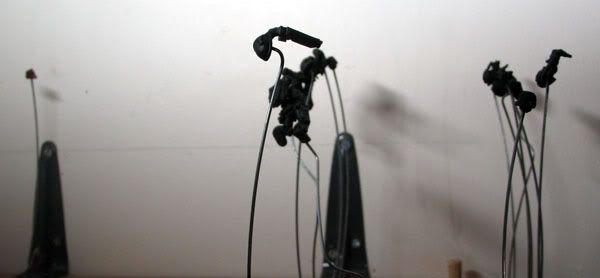 And some on my work area: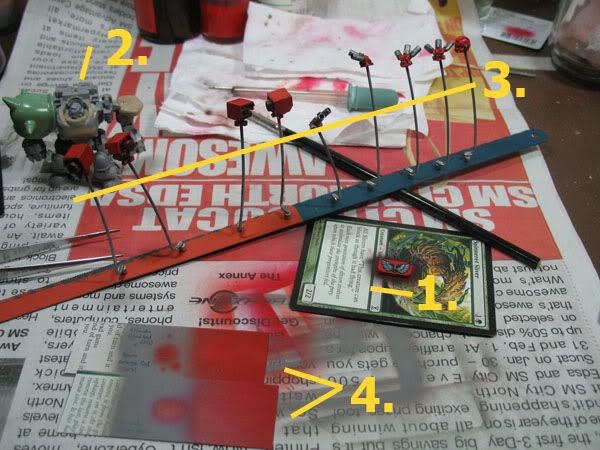 1. The front plate for my Rhino. From the Baal Pred box, actually a test piece for the red I'll use as spray... turned out OK though...
2. Heh, not much to say for this one: it's left shoulder's where I throw my extra putty to bulk things up before I do the actual shoulder pad shape...
3. Four searchlights, four smoke launchers and a head. Didn't want to waste time on doing just 1 set of these vehicle accessories. Why just the head? It's a test mini for item #4
4. Test pieces (colors on primer gray). To speed things up, I'm looking for a shade of red equal to GW Blood Red+GW Purity Seal since for some reason, GW Purity Seal darkens the red a bit. For example(s), compare these two (I swear it aint because of photoshop)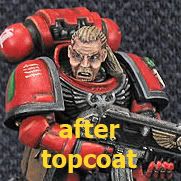 Cheers!