Tip dry
: the one thing we all hate when airbrushing our water-based acrylic paints. Oddly enough, Tamiya Acrylic paints are water-soluble and contains
isopropanol
and
glycol ethers
(says so in the labels). I have no problems about using Tamiya's Acrylic thinner (X-20A), I've used it through my AB, no problems. But searching around the 'net, people say they also
use Tamiya's Lacquer thinner
with no ill effects.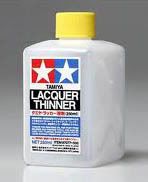 Lacquer thinners and acrylic paints: recipe for disaster?
I've read people swear by this so decided to try it out. Unfortunately I didn't notice if it's sold at the nearest hobby modeller's store (read: >40kms away) so went with the next best thing: hardwarestore-bought
lacquer flo
. (I didn't go for the thinner, as I still have lacquer flo stocked for brush cleaning and thinning acrylic-epoxy paints decanted from rattlecans).
(TL;DR Read on for the experiment...)