What I've been working on:
2nd Tactical Squad Veteran Sergeant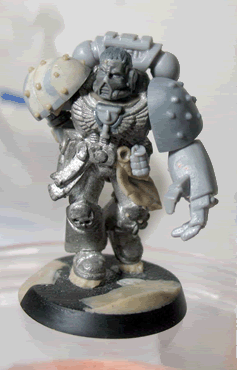 Seems like forever that I've been tinkering with this particular vet. sgt., and forever still before I get it painted (remember BA codex is just around the corner) so I expect this one to be a guinea pig of sort (and hearing about the perdition/melta pistol, I'm sure another revision is on the way hehehe)
3rd Tactical Squad Grenade-totting dude
So... with one (2nd Tactical) squad almost ready for painting (sans vet. sgt., see above) I'm onto my next tactical squad: the 3rd (red blod drop on yellow background) tactical squad. To continue: here's the grenade-handling dude for the squad, drawing from the
Ultramarine's Tyranic War Veteran
for inspiration.
This particular squad has been in active duty (in my armylists) since I started playing WH40k so am quite fond of them (back in the days of Rhino-rushing BAs). Of the squad's current figs, I'll be retaining 3 and the rest will be repainted (dunked in either Simple Green or my newly-appreciated Mr. Muscle Kitchen Cleaner)
Cheers!