Indeed, another figure is seeing completion: another vetsgt to
replace this guy
.
The base model is a metal Death Co. model where I clipped/drilled/grind the (former) head to accept the new plastic bit. (IMHO are better in size than the old ones which are too big). I am going for the look that he is drawing his bolt pistol out from the holster (pics of that part that when the putty has set on it's right arm). Will need to add some details to be consistent with the old one.
For now, here is a pic of the assembled 2nd squad sans the HWproxy marine (or should've been the heavy-weapon carrying marine, since having the squad heavy weapon doesn't fit my play style... maybe next time when I do the 9th and 10th squads
)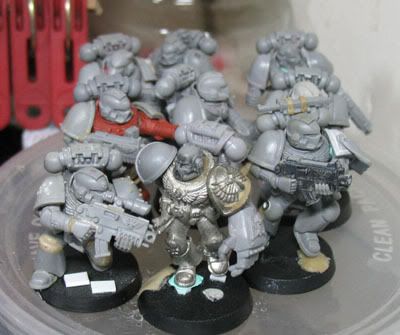 Cheers!
EDIT (June 23, 2009) Alrighty, no pics unfortunately, but I was able to add in some details to the vetsgt as well as mount the kneeling marine on the base (had to mount it higher like my
1st Sq kneeling marine
so as no issues with 5th ed LOS
). Will post pics tomorrow, hopefully nobody used up the batteries for the camera, Cheers!